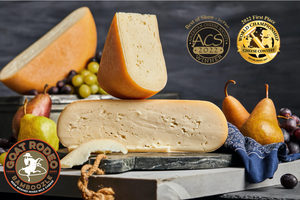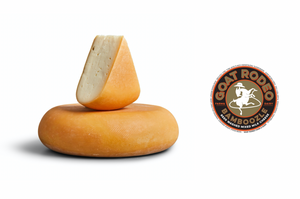 Bamboozle
Supple, semi-soft texture with notes of prosciutto and peanuts, this washed rind goat and cow's milk cheese is washed with beer from Cinderlands Beer Co. Equally at home on a cheese board or melted on a burger. Approximately 9lb wheels.
2022 AMERICAN CHEESE SOCIETY
Best of Show - 2nd Place & 1st Place Mixed Milk Washed-rind Cheese
2022 WORLD CHAMPIONSHIP CHEESE CONTEST
1st Place: Surface Ripened Mixed Milk Cheese
2022 PENNSYLVANIA FARM SHOW
Best in Show & 1st Place: Washed Rind and Smear Ripened Cheese
2020 PENNSYLVANIA FARM SHOW
2nd Place: Washed Rind Cheese
2019 AMERICAN CHEESE SOCIETY
1st Place: Washed Rind – Mixed Milk or Other Milk Cheese
2018 AMERICAN CHEESE SOCIETY
2nd Place: Washed Rind Goat's Milk Cheese
There is a flat rate of $20 for shipping to anywhere in the United States. 
Order by midnight Monday and receive your cheese by Friday of the same week.