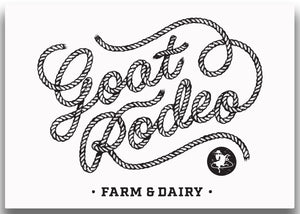 Goat Rodeo Gift Card
Goat Rodeo Gift Card
Looking for the perfect gift for the cheese and/or goat lover in your life? Goat Rodeo gift certificates can be applied toward any item on our website!
--
Purchasing this digital gift card creates a unique code. You or your recipient can enter this code at checkout in our web store to subtract the gift card value from the order total. This is an electronic gift card; no physical gift card will be sent.
This gift card is nonrefundable and never expires.