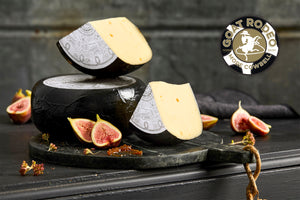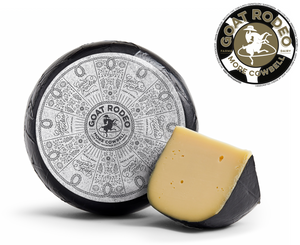 More Cowbell
A semi- firm cave aged mountain style cheese made from Le-Ara Farm's cow's milk in a unique black cream wax rind. The complex herbal flavor pairs well with mild younger red wines like Beaujolais or drier white wines like Sancerre. Approximately 8 lb wheels.
2023 PENNSYLVANIA FARM SHOW
1st Place: Semi-soft, Semi-hard, Hard Cheese
2022 AMERICAN CHEESE SOCIETY
3rd Place: Dutch-style Cheese
2019 PENNSYLVANIA FARM SHOW
2nd Place: Semi-Soft, Semi-Hard, and Hard Cheese from Cow Milk
There is a flat rate of $20 for shipping to anywhere in the United States. 
Order by midnight Monday and receive your cheese by Friday of the same week.